Mon 22 Mar 2010
My first finished copies of Crawlers have now arrived. The book is real, and it's waiting in warehouses to be dispatched to bookshops and libraries and readers everywhere. One would think that I would be ready for this: after all, it's taken me two years of work to get to this moment – but no. Over the last few days since the books got here I've been nervous as hell.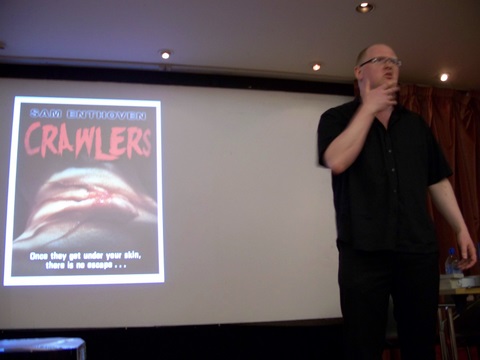 The early reviews for Crawlers have been unanimously positive. More importantly, I'm not going to war or having a baby or undergoing major surgery: I'm launching a book, not flying to Mars or being fired out of a cannon. But telling myself those things makes no difference. I'm fretting.
The big question for me is: What Will Young Readers Think? I've done my best: I've written the best book I possibly can. But this is a book for young people, so until some young people have got hold of it and read it and told me what they think, everything is up in the air.
Today I gave a talk at Peterborough Central Library, to a fantastic group of around 80 students from various schools in the area. My hands were shaking a bit; I babbled (yes, even more than usual) and a couple of times I had to remind myself to stop talking and breathe in! But the group listened to me with impeccable attention – especially during the readings – and I think the whole thing went well. Here's a photo from afterwards with the biggest of the school groups. In the back row beside me you can (just!) see Bali Rai and Dave Shelton, two awesome authors also published by Random House Children's Books.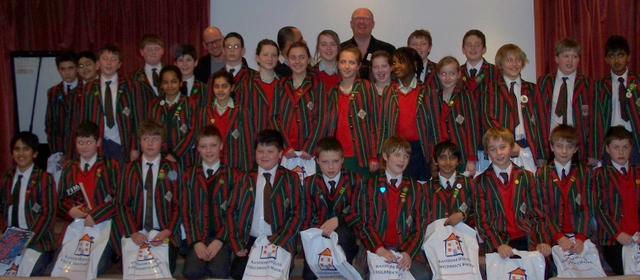 I can tell you, there's nothing like a roomful of people looking up at you expectantly to snap you out of worrying about stuff. I've got another talk to give tomorrow. Bring it on. 😀