Mon 1 Nov 2010
Two quick pics from yesterday's Angels and Demons panel at Foyles on London's Charing Cross Road.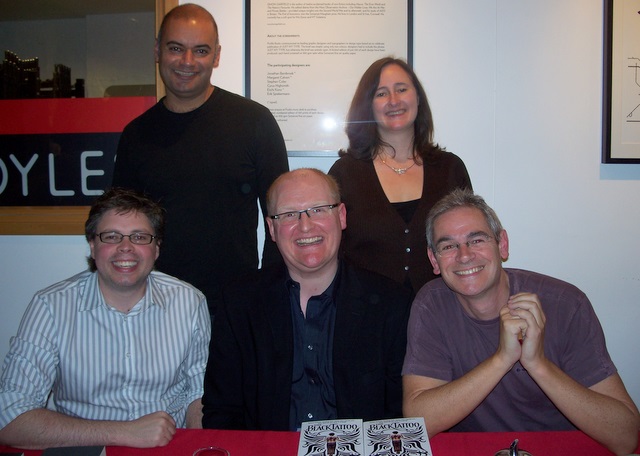 Here's a team photo with (l-r) William Hussey, Sarwat Chadda, some grinning loon, Lee Weatherly and Cliff McNish. It was an intense and – at times – densely theological discussion. Particular kudos to Sarwat for dropping my jaw when he cut loose on the subject of Zoroastrianism!
The turnout was great, and so were the Halloween-themed nibbles (incl. apple slice vampire lips with peanut butter tongues and almond fangs!), decor (esp. the full size mummified corpse swinging from the ceiling!) and outfits (zombies everywhere!) An enormous Thank You to Neil and Jen for all their hard work.
Being an ex CXR bookseller myself I was especially thrilled to see Crawlers in Foyles' window: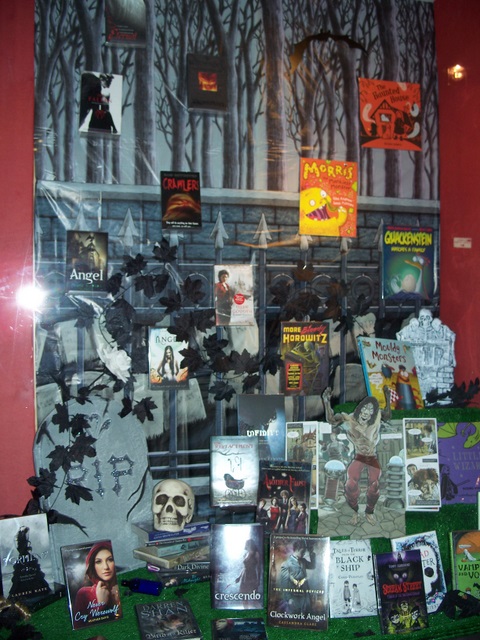 I hope the crew at my old workplace over the road, Blackwell's, can forgive me! 😀