Mon 14 Nov 2011
Posted by samenthoven under Sam in Japan
Comments Off on Awesome On Tap
My brother – who has his own experience of what it's like to live in a foreign country – asked me a very good question in an email recently. Wondering how I was finding life in Tokyo, he asked "Is it utterly alien and unsettling, or are you enjoying the change of scenery and weirdness-on-tap?"
The answer, of course, is both.
On Friday in Tokyo it p!ssed with rain all day. I spent the afternoon feeling cold and homesick, and even got as far as wondering if I'd made a mistake in coming here. But then I pushed myself out for a walk and took this picture:
This is Shimokitazawa, where I live. This scene is five minutes' walk from the house I'm currently sharing. I've been here over two weeks now, and every time I've gone out in this neighbourhood I've discovered something new and amazing.
This weekend there was a festival in another cool Tokyo neighbourhood, Koenji. There was live wrestling (with a gaijin baddie-!)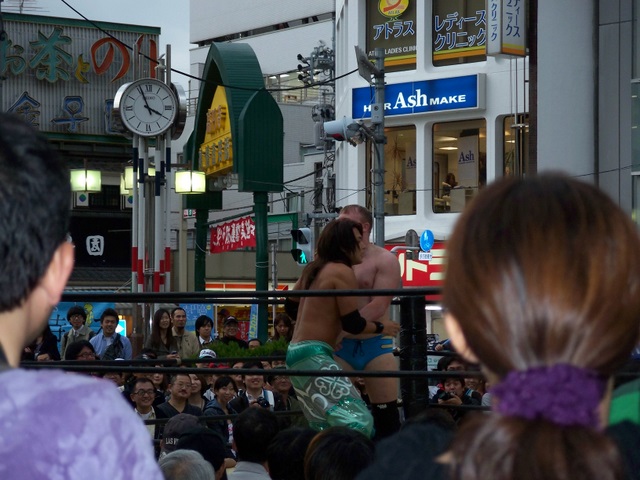 …an astonishing street performance by an orchestra of young players and cheerleaders…
…and an incredibly unsettling shop dummy with a rabbit's head: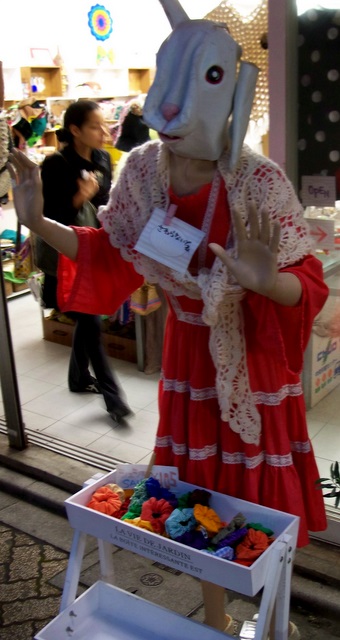 (The sign around the dummy's neck says Don't Touch. I didn't want to.)
To finish with pics for now, here's some taiko drumming that just happened to be going on right there in the street the next day in Shibuya as I was walking past: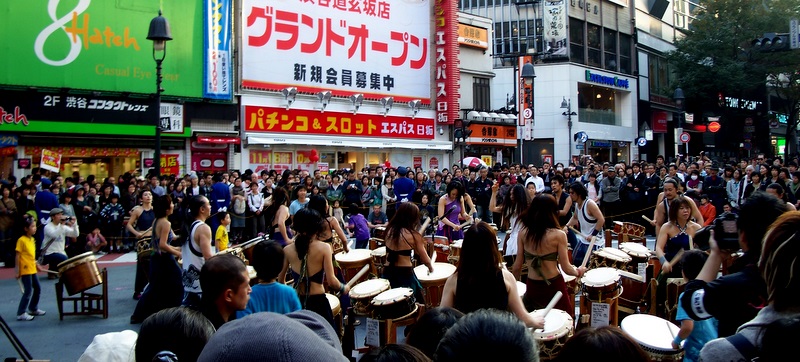 There have been times when I have been scared, intimidated, infuriated and baffled here – not by the place or the people, I hasten to add, but by myself and my reactions to being so far out of my usual element.
But I wouldn't want to miss a moment of it. 😀
More soon,
Sam