Mon 20 Sep 2010
I have joined a gang.

Over the coming months I'm going to be teaming up with some of the finest writers of thrilling new books for young people around right now.
If you want to meet Alexander Gordon Smith, Jon Mayhew, Alex Bell, Steve Feasey, Alex Milway, Sarwat Chadda (and, er, me) then The Crystal Palace Children's Book Festival on Sat 23rd October is the place to be. Our Best of Horror workshop will be the Chainsaw Gang's debut event. Tickets are free but places are limited: if you want to be sure not to miss it click here to book now and book often. ;D
On Fri 29th Oct Gordon, Sarwat, William Hussey and I hit Norwich Millennium Library…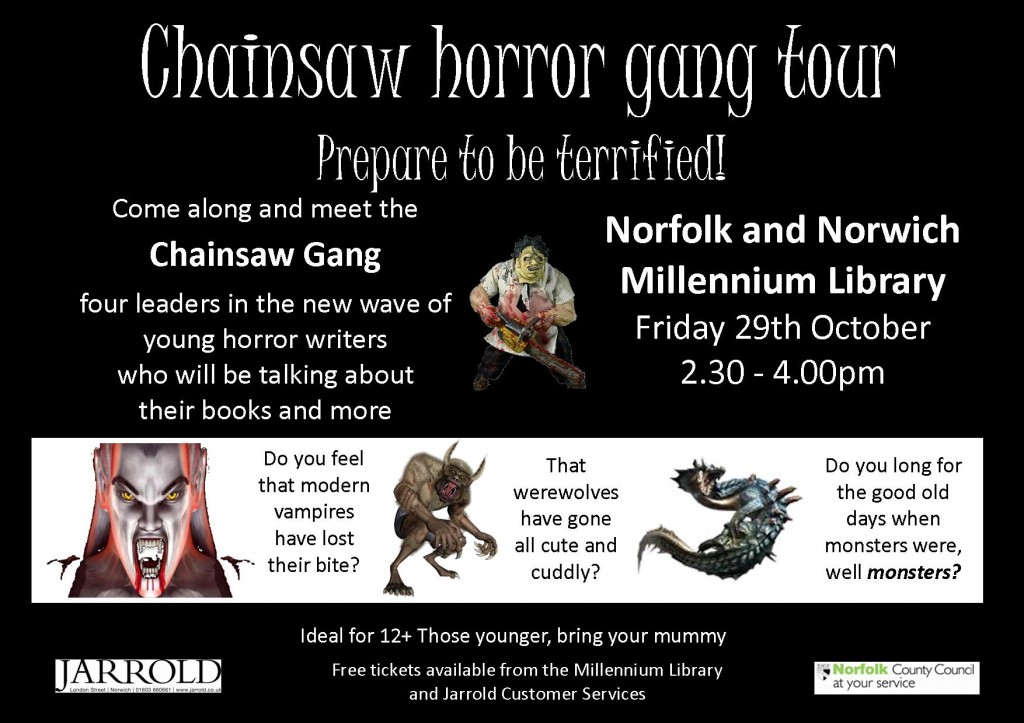 Then on Sunday 31st Oct Bill, Sarwat and I will be at Foyle's on London's Charing Cross Road, representing the Chainsaw Gang for the bookshop's Angels and Demons Halloween Extravaganza.
And this is all just the start. A Chainsaw Gang website and blog tour are in the offing — and shadowy 'Gang mastermind Sarwat Chadda has all sorts of other tricks up his sleeve.
Getting the chance to combine forces with this posse of awesome authors is a huge thrill. I hope you're as excited as I am. Hee hee hee HEE!